Whether you are having a hard time removing the food that fell in between your seats or you are an UBER driver who needs to keep your car clean for passengers, This Portable Car Vacuum Cleaner is for you! This vacuum gets all of the dirt from everyday messes and outdoor adventures quickly and effortlessly.
MAIN FEATURES:
►Easily Sucks Away Dust Residue
Turbo fan blade design, powerful motor, can easily suck away paper scraps, soot, hair, small pebbles, etc.
►Small And Portable
Diameter 5.4cm, height 21.5cm, small size, it can be placed in the water cup slot, center console, door pocket, etc. in the car, which does not occupy space and is easy to take.
►Extensive Cleaning
The power cord is 4.5 meters long. The trunk can also be easily cleaned, saving time and effort, and cleaning without dead ends.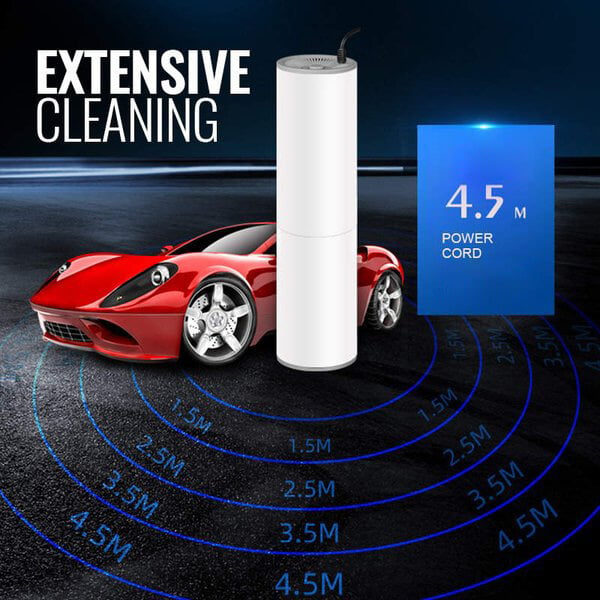 ►Reusable And Washable
The Portable Car Vacuum Cleaner adopts a dust container design and its filter meets High-Efficiency Particulate Air (HEPA) standards. It is easy to assemble and disassemble and also easy to clean.
►Meet Different Needs
Equipped with a long nozzle connector, brush connector, and extended hose connector for all your daily cleaning needs.
►Multi-scene Application
It can penetrate deep into the gap and absorb dust and garbage in dead corners. and could be used on small areas like car interior, keyboard, workstation area, and kitchen cabinets.
How To Use
Specifications:
Color: black, white
Product weight: (gross weight about 451g\net weight about 377g)
Product material: ABS
Product size: about 21.5*5.4cm
Packing size: 32.5*8.8*8cm
Working voltage: 12v
Vacuum degree: 4000 (mbar)
Rated speed: 2000 (r/min)
Rated power: 120w
Power cord length: about 4.5m
Package Contains:
1 x Portable Car Vacuum Cleaner
1 x Brush connector
1 x Long mouth connector
1 x Extension Hose Auxiliary Connector
1 x Extension hose
1 x Power cable